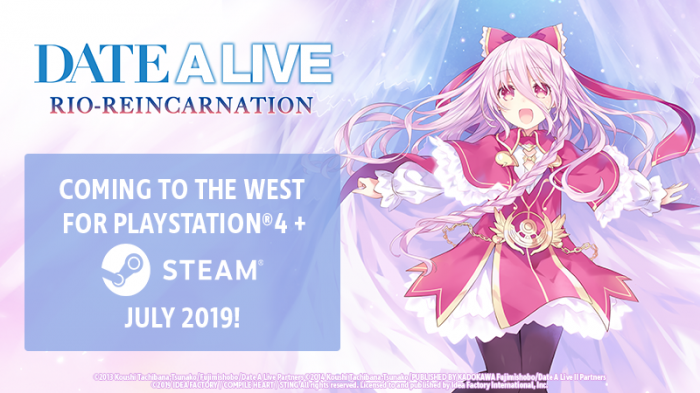 NEW content never localized before! One of the features of the upcoming visual-novel adventure DATE A LIVE: Rio Reincarnation is the inclusion of in-game digital art books for each of this game's three titles, which can be accessed from the main menu. Every art book contains a plethora of information for fans and newcomers alike to get familiar with the series. In total, there are 100-odd pages of content across all the art books, including character bios, key art, rough sketches, plus light novels and comics that have never been localized until now!​
In order to include this art book feature in the game, four pages from the art books will not be included in the PlayStation®4 version, and one page will feature one of the two modified CGs. The Steam® version of the game will include all the original art from the Japanese release. The game will launch physically and digitally for PS4 on July 23 in North America and July 26 in Europe. The Steam version will also launch on July 23.
The PS4 version will have two modified CGs. The Steam version will contain all original CGs. Gameplay for both releases will be the same as the original Japanese version. The Steam version includes original Japanese subtitles, as well as Traditional Chinese subtitles.
Art Book Pages included in Steam Release: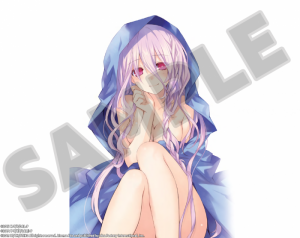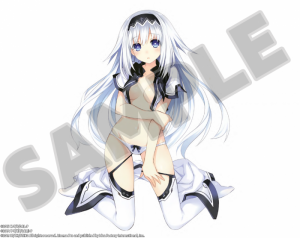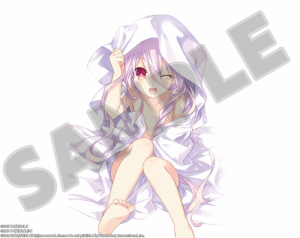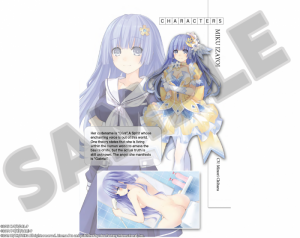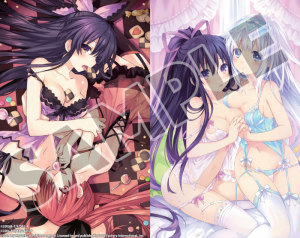 About DATE A LIVE​
Based on the popular light novel series from Fujimi Fantasia Bunko, which inspired three anime adaptations, DATE A LIVE, DATE A LIVE II, DATE A LIVE III, and the anime movie Gekijoban DATE A LIVE: Mayuri Judgement, the story of DATE A LIVE begins thirty years after a series of large disasters, known as Spacequakes, that were caused by the appearance of mysterious entities known as Spirits.​
​
Shido Itsuka, an average high school student, encounters a Spirit named Tohka Yatogami who has lost all hope in humanity. Shido is later told by his younger sister, Kotori, that he alone possesses the ability to seal the power of a Spirit.​
​
In order to protect the world and to save the Spirits, Shido is determined to do whatever he can. No matter the obstacle, he is ready to face the Spirits head-on!
Story​
A brand new character named Rio appears, who calls Shido "Papa" and is searching for the "most important thing."​
After having escaped nearly being trapped in a virtual reality, Shido is afflicted by a strange feeling. A disturbance in the world in which he lives. Someone is out there… He cannot shake the helpless, uncomfortable feeling. This strange feeling persists… A new paradise. A girl who has the same last name as Rinne – Rio Sonogami. The girl, along with Marina… for the sake of everyone's happiness, they wander in search of "the most important thing."
Key Features
Choose Your Fate and Find a Date – Immerse yourself in the world of DATE A LIVE, where Shido has the option to pick from 11 characters and over 150 dating events! Need a break from dating? Get to know the Rio Reincarnation exclusive character, Rio Sonogami, and even talk with 10 other sub-characters for additional story elements!
Find Your Route to Love – The choices you make with each girl can affect Shido's overall destiny! If Shido plays his cards right, he can find the true ending of his favorite girl!
Light Novels Never-Before-Localized – DATE A LIVE fans and readers can rejoice as the three light novels: Rinne's Bathtime, Arusu's Quest, and Rio Reunion are now localized in English! Each story also includes several rough sketches and goofy comic strips!

There's More Where that Came From – Two previous entries in the DATE A LIVE series that were only available on the PlayStation®3, Rinne Utopia and Arusu Install, will be included in Rio Reincarnation! ​Re-experience the ending of your date's route in Rinne Utopia and Arusu Install, and experience new date endings and Event CGs in Rio Reincarnation!​
Preorder for the PlayStation 4 today!
Amazon: http://bit.ly/DAL_A
GameStop: http://bit.ly/DAL_GS
Best Buy: http://bit.ly/DAL_BB
Amazon UK: http://bit.ly/DAL_A_UK