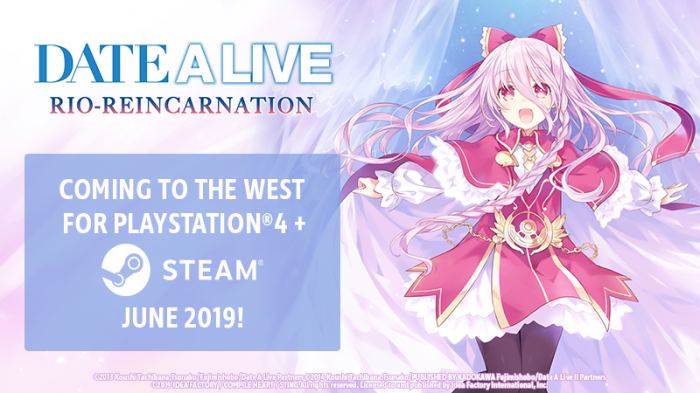 It's time to meet your bachelorettes! We're excited to share with you the first character trailer for DATE A LIVE: Rio Reincarnation titled "Character Trailer(Pt. 1)"! In this trailer you are introduced to Tohka Yatogami, Yoshino, Kurumi Tokisaki, Kotori Itsuka, Origami Tobiichi, and Rinne Sonogami!
Alongside the trailer update, the Iffy-cial Website has been updated with:
Character profile and screenshots for Tohka Yatogami
Details on Rinne Utopia
System
Originally released on the PlayStation®3, Rinne Utopia is also included inDATE A LIVE: Rio Reincarnation and introduces Rinne Sonogami – a childhood friend who shouldn't exist.
DATE A LIVE: Rio Reincarnation will be headed to North America and Europe for the PlayStation®4 (physical/digital) and Steam® this June! The Steam version will also include Traditional Chinese subtitles. The PS4 version will have 2 modified CGs. The Steam version will contain all original CGs. Gameplay for both releases will be the same as the original Japanese version.
Check out the the new trailer!
https://www.youtube.com/watch?v=qpqM9zWTC5o
Tohka Yatogami:

Also known as Princess.
Tohka is the first Spirit that Shido encounters and saves.
Bright and formal, she is innocent and carries a strong moral code.
By Ratatoskr's arrangement, she is now Shido's classmate.
She has a mean appetite. In particular, she's weak to kinako bread and Shido's handmade food. It seems that she hopelessly adores Shido. The angel she manifests is Sandalphon.
Head on over to the Iffy-cial Website for more information and screenshots!