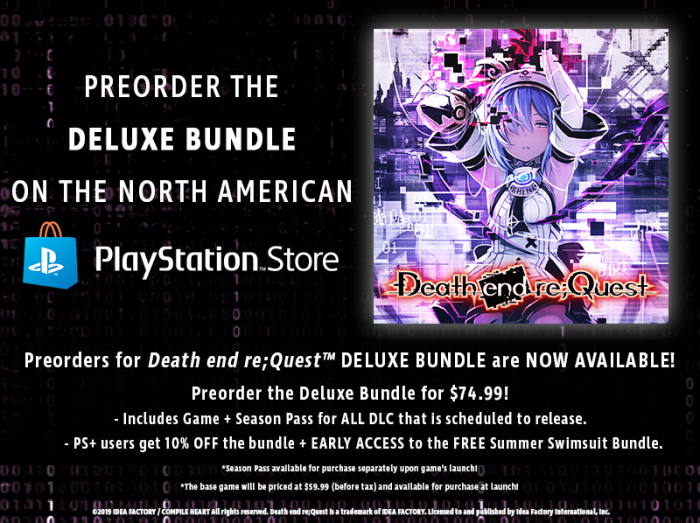 What would you do if you only had a 1% chance to save your friend? We're excited to announce that the Death end re;Quest™ DELUXE BUNDLE is NOW AVAILABLE to preorder on the PlayStation™Store for North America! 
Death end re;Quest launches on the PlayStation®4 on February 19 in North America and February 22 in Europe!
The Deluxe Bundle includes the game and the Season Pass for $74.99! PS+ users will receive a 10% OFF the bundle and receive EARLY ACCESS to the FREE Summer Swimsuit Bundle scheduled for release later this year. The Season Pass will be available for purchase separately post-launch for $19.99 ($14.99 for PS+ Users). Season Pass holders will be able to access each DLC (FREE and paid) according to its release date.
*The base game will be priced at $59.99 and available for purchase on day of launch.
Preorder the Deluxe Bundle here!
EXCLUSIVE BONUS DLC!
Customers who preorder Death end re;Quest Deluxe Bundle on the PlayStation™Store will receive these EXCLUSIVE bonus DLC weapons:
Shina's Bug Swatter
Al's Drill Trap
Lucil's Mosquito Coil
Customers who purchase a physical copy of Death end re;Quest will be guaranteed a voucher containing these EXCLUSIVE bonus DLC weapons:
Lily's Atomic Spray
Clea's Mach Raid
Celica's Venus Blade
*The PSN Preorder, Deluxe Bundle, Season Pass, and exclusive bonus weapon DLC are exclusive to North America. ALL FREE and paid DLC will also be available for purchase individually for both North American and European PSN Users.
Paid DLC in the Season Pass will also be available for individual purchase as they go live, with more information and a release schedule for both FREE and Paid DLC coming soon!
We apologize for the miscommunication and would like to share that the PS+ discount for the Deluxe Bundle is 10% OFF and not 15% OFF as previously announced last week.
Preorder physical copies Death end re;Quest for the PlayStation®4 now!
GameStop: http://bit.ly/DERQ_GS
Best Buy: http://bit.ly/DERQ_BB
Amazon: http://bit.ly/DERQ_A
Amazon UK: http://bit.ly/DERQ_A_UK
For more information and screenshots, head on over to the Iffy-cial Website!