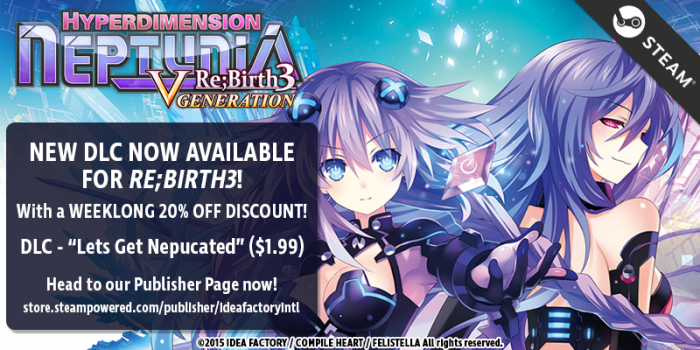 Ready to learn more about your favorite Protagonist, Neptune? NEW DLC NOW AVAILABLE for the Steam version of Hyperdimension Neptunia Re;Birth3 V GENERATION with a WEEKLONG 20% OFF discount!
New DLC:
"Let's Get Nepucated" ($1.99)
- Get to know Neptune better by asking her select questions! The Let's Get Nepucated DLC unlocks a special event, called "Nepucation," where Neptune asks questions to the player. What would you like to learn about Neptune?
Check out the "Let's Get Nepucated" DLC now!
https://store.steampowered.com/app/987270
DON'T FORGET! The Winter Sale goes on until Jan 3rd! Get up to 90% OFF IFI titles! The Hyperdimension Neptunia Re;Birth series is currently 80% OFF!
Visit IFI's publisher page below to check out all the deals!
https://store.steampowered.com/publisher/ideafactoryintl