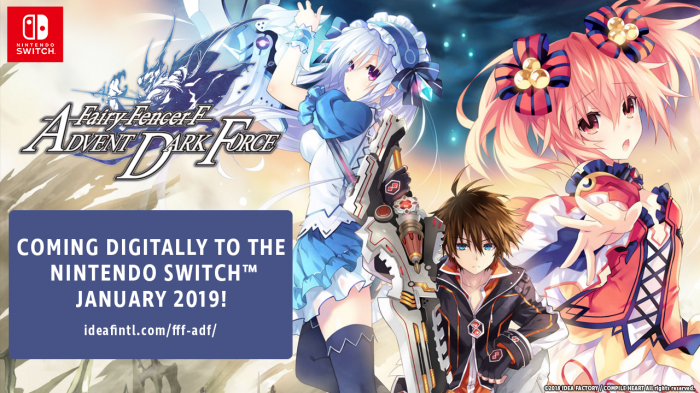 Get your party ready to Fairize, because Fairy Fencer F™: Advent Dark Force will be arriving to the Nintendo Switch™ digitally on the Nintendo eShop™ in January 2019 and will also include all 25 DLC available in the original PlayStation®4 release! To celebrate, the game will be available at a 20% DISCOUNT off the $39.99 price for the first two weeks of its launch! The European version will be released by Ghostlight.
With this announcement, we have also updated the Iffy-cial website with screenshots of dungeon exploration and some fun dialogue between the characters! Be sure to check them out!
In a land filled with power-imbued weapons known as Furies, the Fencers who wield them are locked in combat to collect as many Furies as possible. The unassuming hero, Fang, finds himself caught up in their struggle when he pulls a sword from a stone. With up to six characters on the battlefield, a revolving cast of party members, and a customizable world, join Fang and his band of Fencers in an epic battle to revive the Goddess or the Vile God!
Check out the some of the dungeon and dialogue screenshots below!
Dungeon Exploration:
Dialogue: