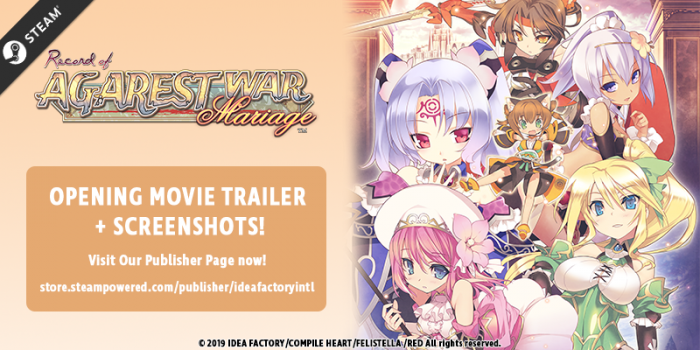 Defeat the Archdemon using the Ciel Blade! We are excited to announce that the store page for Record of Agarest™ War Mariage is now live! Going live alongside the store page is the Opening Movie Trailer and screenshots of gameplay!
Store Page:
https://store.steampowered.com/app/740550/
Opening Movie Trailer:
https://youtu.be/UXsnm4TFX94
Record of Agarest War Mariage, originally released on the PSP™, is a fantasy turn-based RPG with multi-generational story elements. Explore different classes and switch between an Attacker, Defender, Healer, or Supporter to build your party to help your hero defeat the Archdemon once and for all! As you progress through the game, players will have the chance to romance and eventually, marry your one true love! The heir you produce to save the world will determine the story of your playthrough!
Record of Agarest War Mariage will arrive on Steam in early 2019 with English, Japanese, Traditional Chinese, and Simplified Chinese subtitles!
Follow our Steam Publisher Page now!
https://store.steampowered.com/publisher/ideafactoryintl