NEW TITLES INCOMING! It has been revealed at our 5th Annual Press Event that we are bringing THREE NEW TITLES to the West in 2019 + the long waited release date for Death end re;Quest™!
Table of Contents:
Death end re;Quest Release Date Announcement!
Dragon Star Varnir Flies Westward Spring 2019!
Arc of Alchemist Arrives Summer 2019!
DATE A LIVE: Rio Reincarnation Springs to the West Summer 2019!
Check out the new titles and their awesome trailers below!
DEATH END RE;QUEST BOOTS UP FEBRUARY 2019!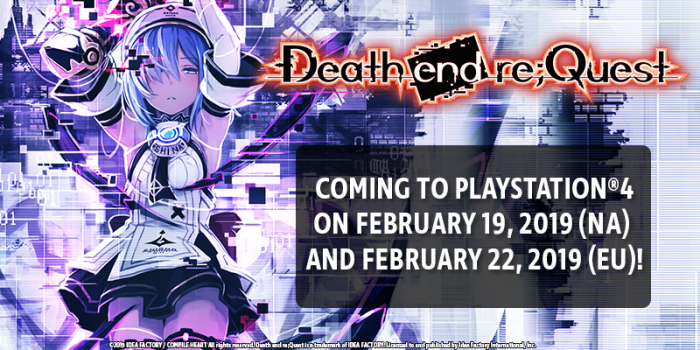 We are happy to announce that Death end re;Quest will be releasing for the PlayStation®4 on February 19, 2019 in North America and February 22, 2019 in Europe! In celebration of the release date announcement, we are also introducing the brand new Battle System (Pt. 1) trailer + New Screenshots of the Normal Battle UI!
Learn the basic battle system techniques in the brand new Death end re;Quest Battle System (Pt. 1) trailer. The trailer introduces four battle basics: The Triact System, Field Bugs, Entering Glitch Mode, and the Knockback System. 
Stay tuned for the Death end re;Quest – Battle System (Pt. 2) showcasing the advanced battle tactics!
Death end re;Quest – Battle System (Pt. 1) Trailer: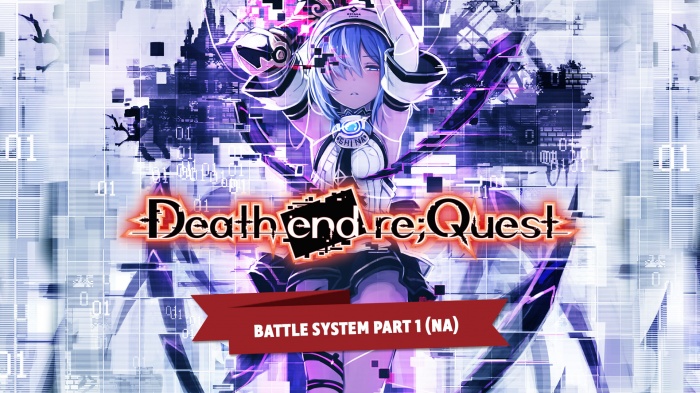 View the new Battle UI screenshots at the Iffy-cial website!
http://ideafintl.com/death-request/
Preorder for the PS4 now!
GameStop: http://bitly.com/DERQ_GS 
Amazon: http://bitly.com/DERQ_A 
Amazon UK: http://bitly.com/DERQ_A_UK
Best Buy: http://bitly.com/DERQ_BB 
DRAGON STAR VARNIR FLIES ONTO THE PLAYSTATION®4 SPRING 2019!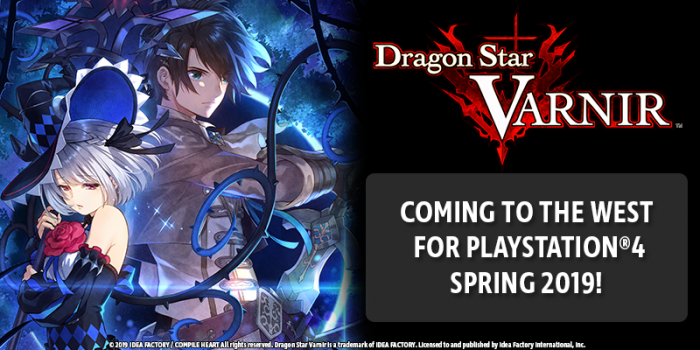 Will you sacrifice witches for riches or save them from their cursed fate? We are excited to announce that the RPG, Dragon Star Varnir™ will be heading West for the PlayStation®4 in Spring 2019! It will be available in both physical and digital formats. Two CG scenes were modified for this game.
Taking place in a world where witches are cursed to give birth to dragons, one man tasked with hunting them soon finds his own fate intertwined with his former enemies. Fight against dragons in turn-based, midair combat, using tiers, transformations, and more to weaken them and devour their abilities! The fate of a group of witches is in your hands – will you choose to save them or sacrifice them? Your decisions will change the course of the game!​
Check out the Teaser Trailer and details below!
Arc of Alchemist – Teaser Trailer: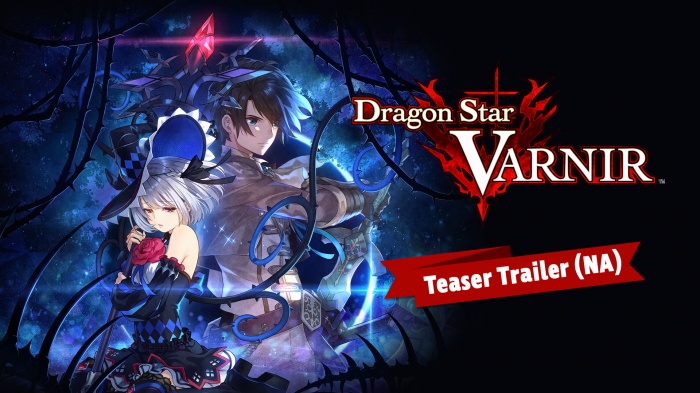 Story​
In a world where the bones of an ancient beast tower over the land…
The Knight Zephy is part of an order whose role is to hunt down witches – people seen as cursed beings for giving birth to dragons.
When he is almost killed on one of these missions, two mysterious witches save him from the brink of death by feeding him dragon blood.
Granted new magic abilities by their efforts, he soon finds his fate intertwined with the witches and reluctantly joins them to fight against an Empire out to destroy his kind, ruthless dragon hunters, and a witch more powerful than any in existence.
Can they fight all this and save themselves, or will his new allies succumb to the dragon's curse…?
Key Features
Battles Take Flight – Fight enemies midair in a unique, vertically-oriented battle system. Strategically position your party at different tiers to attack and disable the enemy's skills, one level at a time!
Enter the Dragon – Perform enough attacks to unleash the dragon within, transforming each character to unlock devastating skills and newfound strength during battle!
Become the Dragon – Weaken an enemy dragon to devour its element! When the element is pierced into a character, they can absorb that dragon's skill tree. But at what cost…?
Madness or Riches? – Three witches depend on you to bring them dragon's blood as food. Starve them, and they go mad. Overfeed them, and they become a dragon! Will you keep them alive or sacrifice them to obtain ultra rare items and skills? Your choices will change the game's endings!
Iffy-cial Website:
ARC OF ALCHEMIST COMES TO THE WEST SUMMER 2019!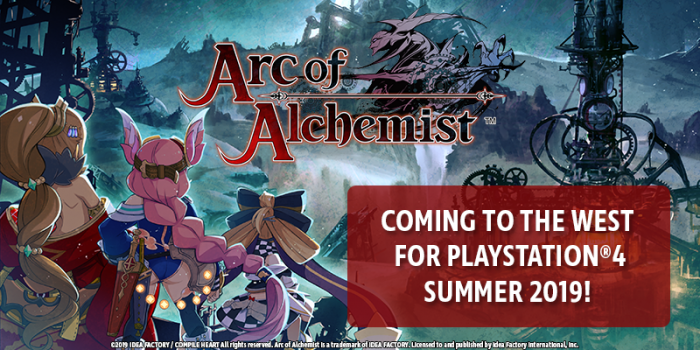 Search through an endless desert in hopes to save the future of mankind! We're happy to announce that the RPG, Arc of Alchemist™ for the PlayStation®4, will be available physically and digitally for North America and Europe in Summer 2019!
Check out the Teaser Trailer and details below!
Arc of Alchemist – Teaser Trailer: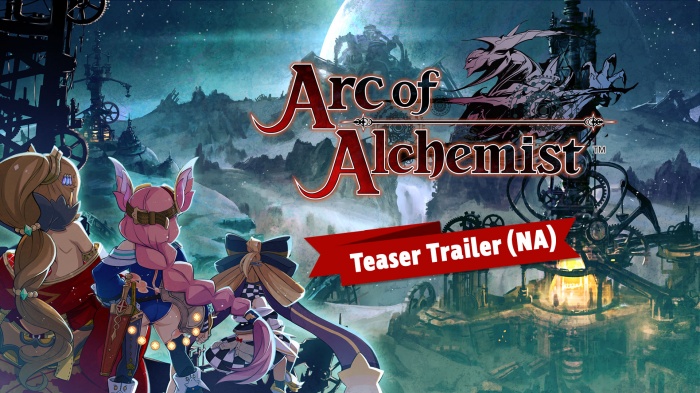 Arc of Alchemist – Screenshots:
Story​
Enter the desert in search of the key to save humanity –  the Great Power. Quinn Bravesford, for the sake of her kingdom, leads her soldiers into battle against a swath of enemy nations. One year, the king declared that he would send a large-scale investigation team to the Desert of Beginnings.​​
And so, Quinn was selected to captain this mission. Quinn gazes at the ancient alchemic device, the Lunagear, within her hand. According to the legends of yore, once the Lunagear is equipped with the four Orbs, it will unlock the Great Power that will save humanity. Only one Orb resides in Quinn's Lunagear. Collecting the four Orbs for the Lunagear, however, is a mere legend. ​​
With the threat of dangerous creatures and Machine Dolls wandering the desert, one of the enemy nations, the Principality of Neuhaven, has dispatched their military in search of the Great Power. Now, Quinn and her band of allies must fight against the Principality of Neuhaven in hopes to find the Great Power and save humanity. Quinn steels herself, but even so, she can't help but doubt the existence of the Great Power…​
Key Features ​
Four Orbs to Rule Them All – Unleash the power of the Lunagear and control the Orb elements: Fire, Water, Wind and Earth. Take advantage of your enemies' elemental weaknesses and even combine any of the four elements for stronger attacks!​​
Hack n' Slasher Flicks – With a myriad of weapons, actions, skills and elemental attacks to customize, players can find different strategies to defeat their robotic nemesis! ​​
Now Let's Get In Formation – Fight alongside Quinn and your two party members as they explore the endless desert, filled with ancient, robotic foes. Each character has specific roles and arranging your formation is key!​​
Ace of Bases – Build your base and choose facilities to upgrade your party's needs! Equip your allies with a flurry of weapons and input their action commands to your strategic liking!​
More details at the Iffy-cial Website!
http://ideafintl.com/arc-of-alchemist
DATE A LIVE: RIO REINCARNATION COMES TO THE WEST SUMMER 2019!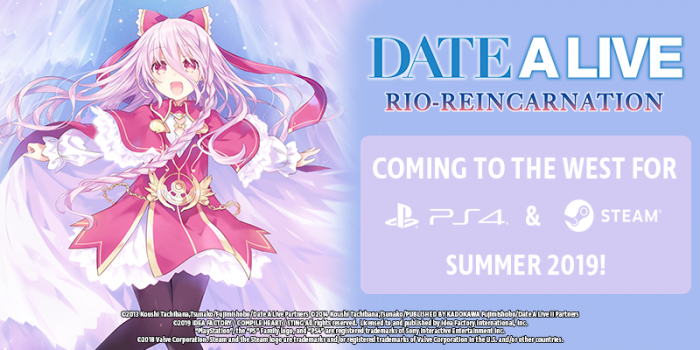 Your choices will affect your destiny! We are excited to announce that the adventure/visual novel game DATE A LIVE: Rio Reincarnation will be arriving for the PlayStation®4 (physical/digital) and Steam® in Summer 2019!
Two CG scenes were modified for the PS4 release, while the Steam version will remain unedited. Please note that the gameplay for both games has not changed from the Japanese version. ​
About DATE A LIVE​
Based off of a popular light novel series from Fujimi Fantasia Bunko, which inspired three anime adaptations, DATE A LIVE, DATE A LIVE II, DATE A LIVE III, and the anime movie Gekijoban DATE A LIVE: Mayuri Judgement, the story of DATE A LIVE begins thirty years after a series of large disasters, known as Spacequakes, that were caused by the appearance of mysterious entities known as Spirits.​​
Shido Itsuka, an average high school student, encounters a Spirit who despairs of humanity. Shido is later told by his younger sister, Kotori, that he alone possesses the ability to seal the power of a Spirit.​​
In order to protect the world, and to save the Spirits, Shido is determined to do whatever he can. No matter the obstacle, he is ready to face the Spirits head-on!​
Story​
A brand new character named Rio appears, who calls Shido "Papa" and is searching for the "most important thing."​​
After having escaped nearly being trapped in a virtual reality, Shido is afflicted by a strange feeling.​
A disturbance in the world in which he lives. Someone is out there… He cannot shake the helpless, uncomfortable feeling. This strange feeling persists… A new paradise. A girl who has the same last name as Rinne–Rio Sonogami. The girl, along with Marina… for the sake of everyone's happiness, they wander in search of "the most important thing."
Key Features​
Multiple Dates, Multiple Outcomes – With 11 characters to choose from and over 150 dating events, who you choose is up to you!​​
Find Your Route to Love – The choices you make with each girl can affect your overall destiny. Clear all of your date's conditions to reveal the heroine's true ending!​​
Motion Portrait Animation Comes To Life – All standing portraits that players interact with will breathe, blink, and react to your conversations! The heroines feel more realistic than ever!​​
There's More Where That Came From – Two previous entries in the DATE A LIVE series that were only available on the PlayStation®3, Rinne Utopia and Arusu Install, will be included in Rio Reincarnation! Re-experience the ending of your date's route in Rinne Utopia and Arusa Install, and experience new date endings and Event CGs in Rio Reincarnation!
Be sure to check out the Iffy-cial website for more information! Preorders are coming soon!
http://ideafintl.com/date-a-live
That wraps up the announcements made at IFI's 5th Annual Press Event! We would like to thank all of you for your support and we can't wait to bring over these great titles to the West!