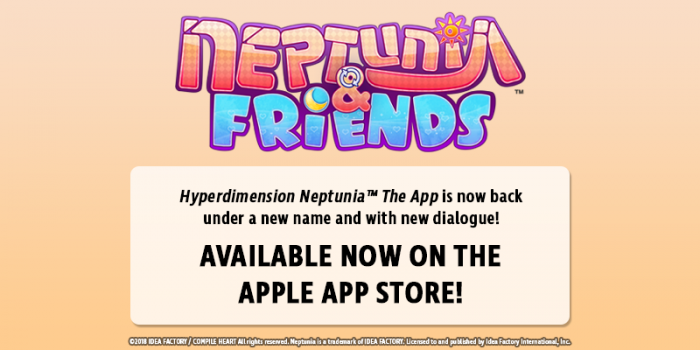 Never be late or wake up late again! Neptunia™ & Friends is now available on the Apple App store ! Originally released as Hyperdimension Neptunia™ The App, this version, now called Neptunia & Friends, has updated text and voice files for Neptune, Noire, Blanc, Vert, and Purple Heart!
Not only is Neptunia & Friends a full alarm clock app for iOS, but it's also a place where you can dress up and chat with the Goddesses in their kawaii costumes, play a mini-game, and raise the Goddesses' Love Love Gauge! Chat with your favorite Goddess to receive more Love Love Gauge points – the higher the gauge, the more intimate your chats will get. Shake up your phone and see what kind of reaction your Goddess will display! Maybe you'll even get a kiss…?
The app will also feature additional character-specific costumes, voices, and background scenery as In-App purchases.
Key Features
Do-Re-Mi, Oh My! – Neptunia & Friends is revamped with newly localized text, as well as updated voice files for all of the Goddesses! Start your day off by waking up to your favorite Goddess' voice!

The Love Love Gauge is a bar that will increase depending on the actions you take with your Goddess. Increase the Love Love Gauge by playing the Blind Bluff Poker mini-game, chatting, and providing cake gifts. The higher the Love Love Gauge, the more likely the Goddess will say something intimate and maybe even a quick smooch!

Outfit of the Day – Flaunt your favorite Goddess with multiple costumes, voice files, and backgrounds to choose from!* On top of familiar outfits from Hyperdimension Neptunia™ Re;Birth3: V Generation and Cyberdimension Neptunia™: 4 Goddesses Online, you can also get outfits exclusively for the app!
*Additional costumes, voice files, and backgrounds are not included in the free app download.
Check out some screenshots below!