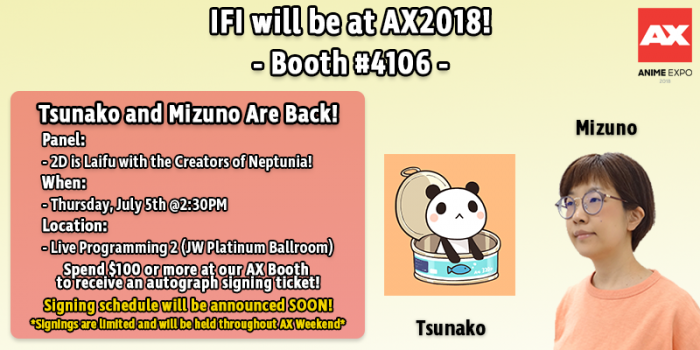 We are excited to announce that the Creators of the Neptunia series, Character Designer/Illustrator Tsunako and Producer Mizuno will be joining us at Anime Expo 2018 at Idea Factory International's AX Booth #4106!
In celebration of the announcement of Super Neptunia™ RPG, we will be hosting a panel with Tsunako and Mizuno to talk about this exciting new Neptunia title!
Panel: 2D is Laifu with the Creators of Neptunia!"
When: Thursday, July 5th @2:30PM
Location: Live Programming 2 (JW Platinum Ballroom)
There will be signings held throughout AX Weekend! Spend $100 or more at our AX Booth and receive a ticket for an autograph signing. 
*Tickets for the signings are limited! Date and Time of the signings will be announced at a later date*
IFI will also have two other panels going on at Anime Expo!
Community Panel:
Panel: Nep Yeah! A Community Panel
When: Wednesday, July 4th @ 7:30PM
Room: Live Programming 5 (LACC 404 AB)
IFI Localization Panel
Panel: IFI: Localizing a Brand New IP
When: Saturday, July 7th @2:00PM
Room: WS 2 (LACC 406 AB)
We have new merchandise coming to AX2018 so stay tuned for more Anime Expo news!
Register for Anime Expo now!
http://www.anime-expo.org/register/