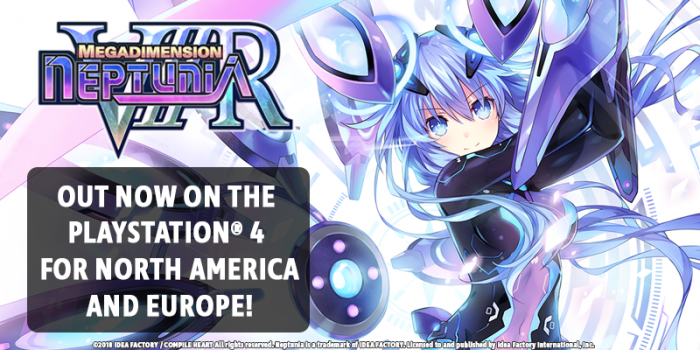 It's time to hop dimensions and hang out with your favorite CPU Goddesses! We are excited to announce that Megadimension Neptunia™ VIIR is now available physically and digitally in both North America and Europe for the PlayStation®4 system (PlayStation®VR compatible)!
*PSVR Headset is NOT required.
Launch Trailer (NA):
https://youtu.be/7TxiZo4HQoA
In celebration of the launch, there will be several available DLC for purchase and for free! Check out the DLC contents below!
Free DLC
- 4 Goddesses Online Premium Weapon Set
- Dengeki Neptune Weapon Set
- Dengeki Uzume Costume Weapon Set
- Dengeki Gold Third Costume Set
- Famitsu Neptune & Noire Weapon Set
Paid DLC
- Megadimension Neptunia VIIR Theme = $0.99/€0.99
- Neptunia VIIR Memorial Edition Theme = $0.99/€.099
- 4 Goddesses Online Starter Weapon Set = $0.99/€0.99
- 4 Goddesses Online Novice Class Weapon Set = $0.99/€0.99
- 4 Goddesses Online Samurai's Soul Weapon Set = $0.99/€0.99
- 4 Goddesses Online Adventurer Class Weapon Set = $1.99/€1.99
- 4 Goddesses Online Magician Weapon Set = $0.99/€0.99
- 4 Goddesses Online Hero Weapon Set = $1.99/€1.99
- 4 Goddesses Online Legendary Weapon Set = $1.99/€1.99
- Inventory Expansion 1 – 9 = $0.49/€0.49 each
For more information, check out the Iffy-cial website!
http://ideafintl.com/nep-v2r/