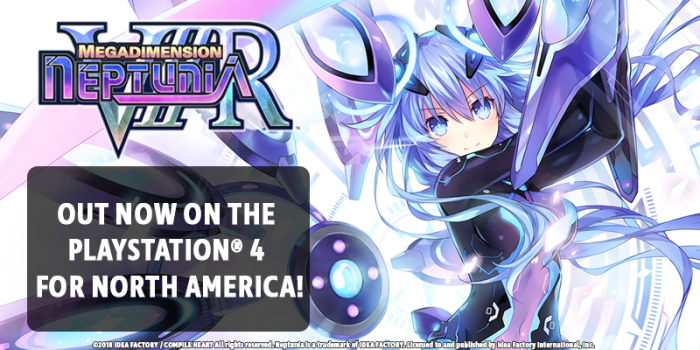 Your 3D waifus are now in YOUR dimension! We are excited to announce that Megadimension Neptunia™ VIIR (pronounced "V-two-R") is now available physically and digitally in North America for the PlayStation®4 system (PlayStation®VR compatible)!
Launch Trailer (NA):
https://youtu.be/7TxiZo4HQoA
The European version will launch on May 11, 2018!
In celebration of the launch, there will be several available DLC for purchase and for free! Check out the DLC contents below!
Free DLC
- 4 Goddesses Online Premium Weapon Set
- Dengeki Neptune Weapon Set
- Dengeki Uzume Costume Weapon Set
- Dengeki Gold Third Costume Set
- Famitsu Neptune & Noire Weapon Set
Paid DLC
- Megadimension Neptunia VIIR Theme = $0.99
- Neptunia VIIR Memorial Edition Theme = $0.99
- 4 Goddesses Online Starter Weapon Set = $0.99
- 4 Goddesses Online Novice Class Weapon Set = $0.99
- 4 Goddesses Online Samurai's Soul Weapon Set = $0.99
- 4 Goddesses Online Adventurer Class Weapon Set = $1.99
- 4 Goddesses Online Magician Weapon Set = $0.99
- 4 Goddesses Online Hero Weapon Set = $1.99
- 4 Goddesses Online Legendary Weapon Set = $1.99
- Inventory Expansion 1 – 9 = $0.49 each
For more information, check out the Iffy-cial website!
http://ideafintl.com/nep-v2r/