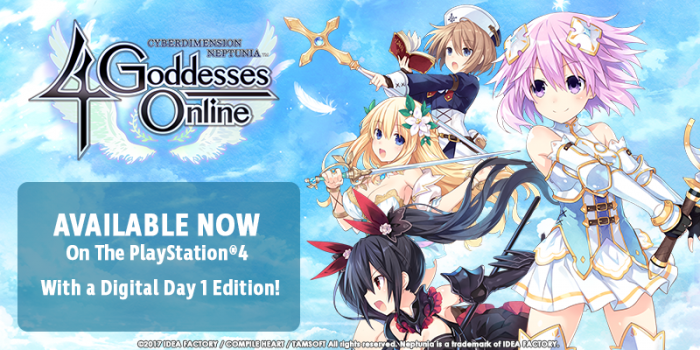 It's time to log in! Cyberdimension Neptunia: 4 Goddesses Online is available for the PlayStation®4 system for North America and Europe, with a Digital Day 1 Edition, available at launch and exclusively on the PlayStation Store! The game also launches with a free Neptune Special Theme and free Catsuit DLC!
For the first two weeks of launch, those who purchase the Digital Day 1 Edition will have exclusive access to the following:
-Four (4) PlayStation®4 system themes: Decorate your home screen with the Goddesses Advent Theme, Pixel Theme, Chosen CPUs Theme, or Chosen CPU Candidates Theme!
-Twelve (12) PSN avatars: Nep up your PSN profile with your favorite Goddess! Choose from 12 different avatars of the CPUs or CPU Candidates.
The content included in the Digital Day 1 edition will be available for separate purchase to all 2 weeks after the game's release. The free Neptune Special Theme and free Catsuit DLC are available to download now from the PS Store.
Cyberdimension Neptunia on the PlayStation Store:
NA: https://store.playstation.com/…
EU: https://store.playstation.com/…
Find out more about the game on the Iffy-cial website!
http://ideafintl.com/cyberdimension/