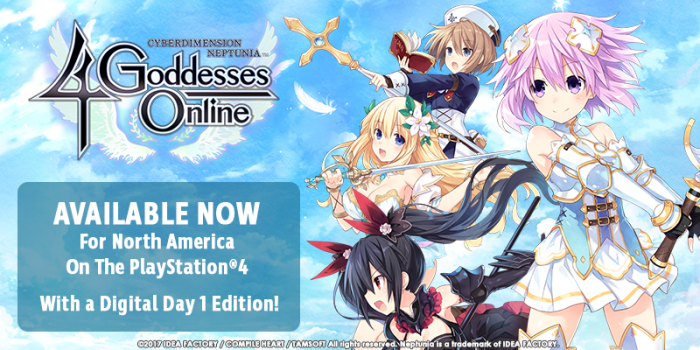 It's time to log in! Cyberdimension Neptunia: 4 Goddesses Online is available for the PlayStation®4 system TODAY for North America and on October 13 for Europe, with a Digital Day 1 Edition, available at launch and exclusively on the PlayStation Store! The game also launches with a free Neptune Special Theme and free Catsuit DLC!
Cyberdimension Neptunia on the PlayStation Store:
https://store.playstation.com/…
For the first two weeks of launch, those who purchase the Digital Day 1 Edition will have exclusive access to the following:
-Four (4) PlayStation®4 system themes: Decorate your home screen with the Goddesses Advent Theme, Pixel Theme, Chosen CPUs Theme, or Chosen CPU Candidates Theme!
-Twelve (12) PSN avatars: Nep up your PSN profile with your favorite Goddess! Choose from 12 different avatars of the CPUs or CPU Candidates.
The content included in the Digital Day 1 edition will be available for separate purchase to all 2 weeks after the game's release. The free Neptune Special Theme and free Catsuit DLC are available to download now for NA from the PSN store and will be available on 13 October for EU.
Neptune Special Theme:
https://store.playstation.com/…
Catsuit DLC:
https://store.playstation.com/…
Find out more about the game on the Iffy-cial website!
http://ideafintl.com/cyberdimension/