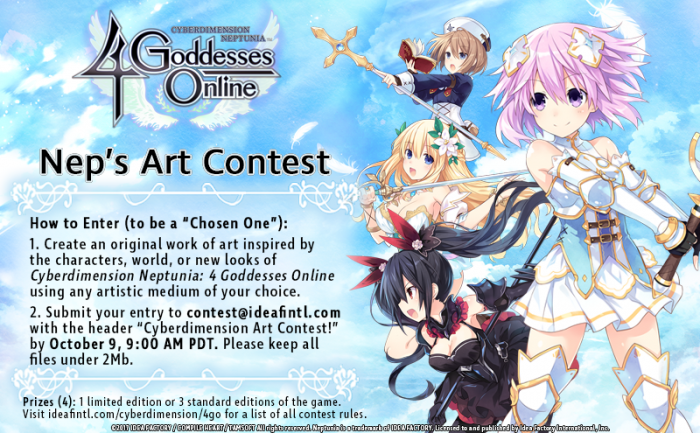 CYBERDIMENSION NEPTUNIA: 4 GODDESSES ONLINE ART CONTEST (9/26-10/09)
Are you a "Chosen One"?
We're less than a month away from the release of Cyberdimension Neptunia: 4 Goddesses Online for the PlayStation®4 on October 10/13 (NA/EU). And we've just received admin access to the 4 Goddesses Online message boards–so we're taking over the forums to hold Nep's Art Contest!
Visit Nep's forums for full contest rules and details:
http://ideafintl.com/cyberdimension/4go/community/?page=15
The best part? The Goddesses and friends themselves will be the judges! That's right, we've opened up a portal between their world and ours specifically so they could judge this art contest. Each week, we'll post entries in Nep's Art Contest forum with commentary from your favorite protectors of Gamindustri, with winners being chosen by October 10!
Grand Prize: 1 Limited Edition of Cyberdimension Neptunia: 4 Goddesses Online
3 Runners-up: Standard Edition of Cyberdimension Neptunia: 4 Goddesses Online
How to enter the contest:
1. Create an original work of art inspired by the characters, world, or new looks of Cyberdimension Neptunia: 4 Goddesses Online using any artistic medium of your choice. Remember, Nep's watching so please be respectful.
2. Submit your entry to [email protected] with the header "Cyberdimension Art Contest!" by October 9, 9:00 AM PDT
3. Winners will be announced on the game's North American release date – October 10
Get your inspiration for the new world at the game's Iffy-cial site.
Contest Rules*:
Plagiarism will not be tolerated. Plagiarized entries will be automatically disqualified. Contestants who submit plagiarized entries will also be banned from future IFI contests. This will be strictly enforced.

Please keep entries PG-13 and appropriate. Inappropriate entries will not be posted or considered.

The deadline is Monday, October 9, 2017 at 9:00 AM PDT. By submitting your entries, you are giving express consent for Idea Factory International to share your pictures online.

Winners will be announced on October 10. All entries will be posted here and on the Idea Factory Facebook page with winners' names (first name and last initials, unless another name is requested for display).

Winners will be contacted in a private message to receive their prize. We will ask for your full name, your mailing address, and your email or phone number. This information will only be requested if you win the contest(s), and we will not share your information with any other companies.

Those who win prizes can expect their items to be shipped out shortly after the release date of Cyberdimension Neptunia: 4 Goddesses Online. Shipping times may vary depending on your location.

There will be 1 Grand Prize winner and 3 Runners-up (Prizes of 1 Limited Edition and 3 Standard Editions)

You must be 13 years of age or older to enter the contest. Entries are accepted from all countries worldwide.
*Contest rules are subject to change