Good news, Otome fans! We're giving 
Hakuoki™: Kyoto Winds
 the Iffy treatment with a 
Hakuoki: Kyoto Winds Limited Edition
, exclusively available on Iffy's Online Store and Iffy's European Online Store!
Preorder starts April 18! While you wait, check out the beautiful goodies inside!
The Hakuoki: Kyoto Winds Limited Edition includes:
Collector's Box
Shinsengumi Warriors Bento Box
Hakuoki: Kyoto Winds Furoshiki
"Record of Service" Art Book
"Melodies from Kyoto" Official Soundtrack
Reversible Cover Sleeve
Hakuoki: Kyoto Winds for the PlayStation®Vita system
*Preorder link for the EU store will be live on April 18.
Hakuoki: Kyoto Winds is available on the PS®Vita on May 16 for North America and May 19 for Europe!
Collector's Box
Complete your collection with the Hakuoki: Kyoto Winds Collector's Box! This sturdy, matte-finish Collector's Box features the beautiful Shinsengumi captains on the cover and the adorable chibi characters on the side for you to proudly display!
Shinsengumi Warriors Bento Box 
Emblazoned with the Shinsengumi on top, this lacquered wooden bento box represents their love for you – strong, dependable, and ready for anything. Use the included divider to separate your snowbunnies from your dango in this food-safe container, or remove it and pack more stuff in there!
 *Not microwave-safe
Hakuoki: Kyoto Winds Furoshiki 
Furoshiki are Japanese traditional wrapping cloths used to wrap and carry goods or food. Use this gorgeous Furoshiki, featuring all 12 Hakuoki bachelors, to protect your bento box from ronin! Or, hang it up and admire the bachelors' handsome faces!
"Record of Service" Hardcover Art Book 
This hardcover art book contains a record of the Shinsengumi's lives, battles, and accomplishments. From character profiles to rough sketches to Hijikata's favorite food, the 64-page Record of Service Art Book is an encyclopedia of information you've collected during this journey.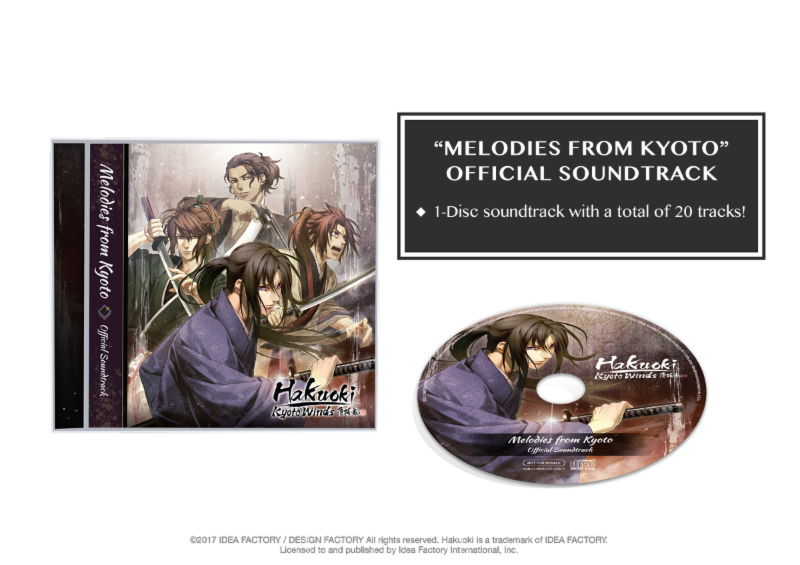 "Melodies from Kyoto" Official Soundtrack 
The precious emotions felt during your stay in Kyoto are recorded in the "Melodies from Kyoto" Official Soundtrack. Relive your romances with these 20 tracks as you brace yourself for the journey to Edo!
Reversible Cover Sleeve 
Furies can't reverse the Water of Life's effects, but you can reverse the cover sleeve to reveal the original Japanese cover sleeve!
---