We're proud to finally reveal the Official Hakuoki: Kyoto Winds Festival + Cafe Activities! Participate in each station's and you'll receive 2 collectible pins. Do all six stations and you'll have all twelve bachelor pins!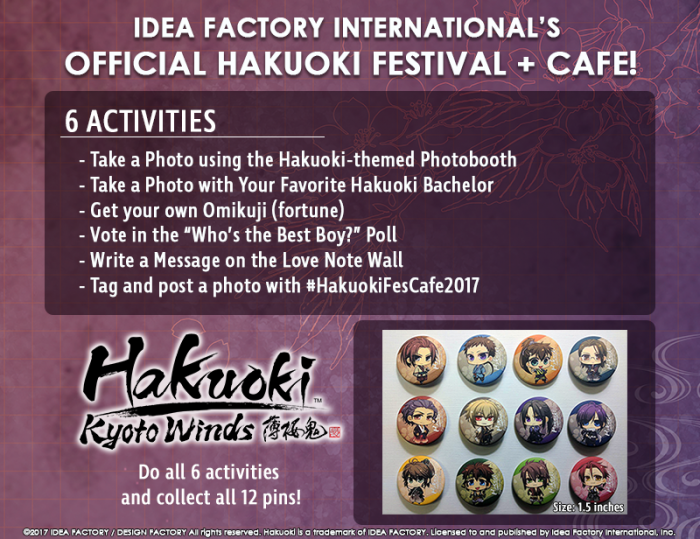 - Take a Photo using the Photobooth
We will have a Hakuoki-themed photobooth! Take a photo with your friends or husbandos here — you'll get a printed photostrip with a Hakuoki background to take home!
- Take a Photo with Your Favorite Hakuoki Bachelor
All 12 Hakuoki: Kyoto Winds bachelors will be attending the Hakuoki: Kyoto Winds Festival + Cafe! Take a photo with your favorite one!
- Get your own Omikuji (fortune)
What lies in your future? Find out by drawing your own random fortune (omikuji)! Each omikuji features a Hakuoki bachelor giving you some advice.
- Vote in the "Who's the Best Boy?" Poll
Which of the twelve bachelors is Best Boy? Heisuke? Yamazaki? Cast your vote by placing a sticker under your favorite bachelor!
- Write a Message on the Love Note Wall
We'll have a giant Love Note Wall for you to write your love confessions on! Show us your true feelings!
- Tag and post a photo with #HakuokiFesCafe2017
We'll have standees, displays, and even cake! Take a photo, and post it on social media with the tag #HakuokiFesCafe2017 to commemorate the event!
*You will receive a sticker card at registration and may only do each event once for a pair of pins.
Tickets available: bit.ly/HakFesCafe