White Day (March 14) is just around the corner! Celebrated one month after Valentine's Day, White Day started in Japan as a way for those who received Valentine's Day chocolates to return the favor.
We're celebrating this romantic holiday with a Hakuoki: Kyoto Winds White Day Love Note Contest! On White Day, we'll announce three winners! You could win a standard edition of Hakuoki: Kyoto Winds!
HOW TO ENTER
1. Choose your favorite bachelor from Hakuoki: Kyoto Winds!
2. Save the Love Note, and write/draw your love for him (see example)!
3. Send your submission to [email protected] with the header "Hakuoki White Day Contest" by March 13 at 12pm PDT.
EXAMPLE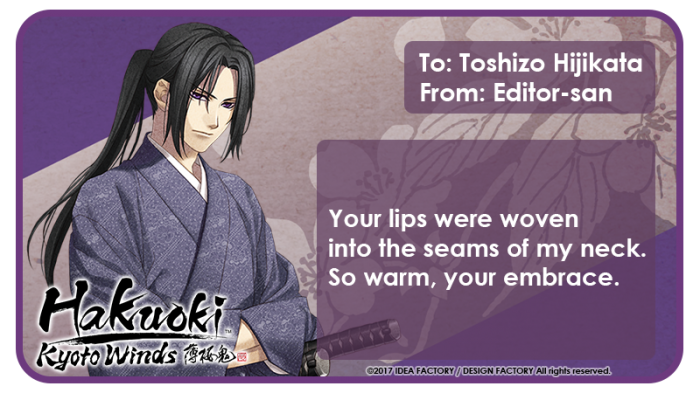 Hakuoki: Kyoto Winds Love Note Templates
By submitting your entries, you are giving express consent for Idea Factory International to share your pictures online. All entries (non-winning and winning) will be posted on the Idea Factory Facebook page with winners' first names and last initials, or a preferred name. The winner can expect their items to be shipped out shortly after they are announced. Shipping times may vary depending on your location. You must be 13 years of age or older to enter the contest. Entries are accepted from all countries worldwide!