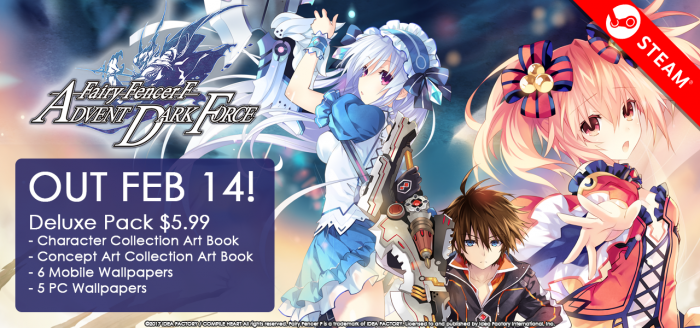 Fairy Fencer F™: Advent Dark Force simultaneously releases in Asia and the West with English, Japanese, and Chinese subtitles this Valentine's Day, February 14, and it's got quite the sweet Valentine's Day Deluxe Pack gift for you!
For more information about the game, visit the store page here: http://store.steampowered.com/app/524580/
No Valentine's Day date to save the world is complete without a Deluxe Pack and it's available in all regions!
Deluxe Pack (accessible with game purchase) – $5.99
- Character Collection Art Book
- Concept Art Collection Art Book
On top of the 25% launch discount, you can get the Deluxe Bundle (game + Deluxe Pack) for an additional 10% off both the game and Deluxe Pack!