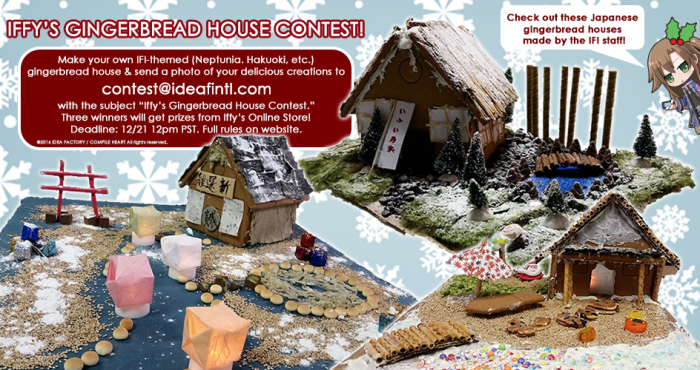 It's time to celebrate the end of the year with…gingerbread houses! Make your own Neptunia, Hakuoki, or just Iffy-themed house and enter our contest! Check out these Japanese gingerbread houses made by the IFI staff as examples

HOW TO ENTER
1. Make an IFI-themed* gingerbread house
2. Take a photo of your delicious creation
3. Send the photo to [email protected] with the subject "Iffy's Gingerbread House Contest" and your preferred name
Three winners will get prizes from Iffy's Online Store! Deadline to submit an entry is December 21, 2016 at 12pm PST. 
*Themed after any Idea Factory International video game
By submitting your entries, you are giving express consent for Idea Factory International to share your pictures online. All entries (non-winning and winning) will be posted on the Idea Factory Facebook page with winners' first names and last initials, or a preferred name. The winner can expect their items to be shipped out shortly after they are announced. Shipping times may vary depending on your location. You must be 13 years of age or older to enter the contest. Entries are accepted from all countries worldwide!