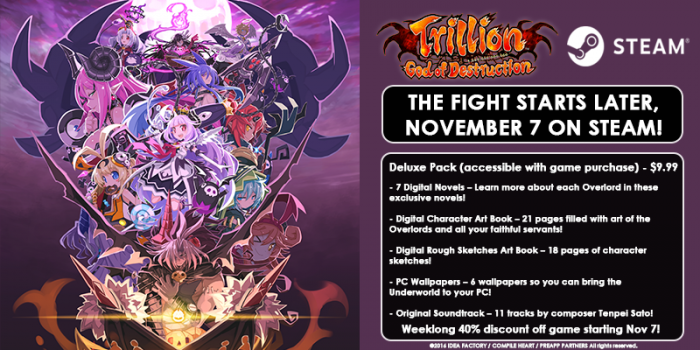 Trillion 1,000,000,000,000™: God of Destruction stomps onto Steam at a later date, on November 7 with a 40% off weeklong launch discount! Plus, all of the free DLC included in the PlayStaton®Vita version are included free and pre-installed in the Steam version.
New and experienced players alike can enjoy the game in smooth 1080p graphics and have the option of getting the new Deluxe Pack for even more Underworld havoc!
Deluxe Pack (accessible with game purchase) – $9.99
- 7 Digital Novels – Learn more about each Overlord in these exclusive novels!
- Digital Character Art Book – 21 pages filled with art of the Overlords and all your faithful servants!
- Digital Rough Sketches Art Book – 18 pages of character sketches!
- PC Wallpapers – 6 wallpapers so you can bring the Underworld to your PC!
- Original Soundtrack – 11 tracks by composer Tenpei Sato!
On top of the 40% launch discount, you can get the Deluxe Bundle (game + Deluxe Pack) for an additional 10% off both the game and Deluxe Pack!