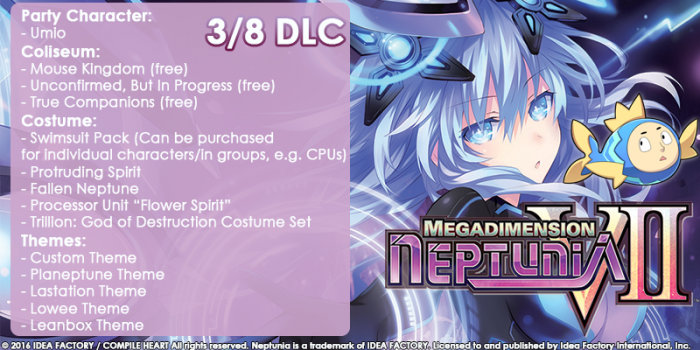 Get your dandy on and swim across maps as Umio in our latest DLC update!
And just in time to celebrate Trillion: God of Destruction's LE preorder (NA: http://bit.ly/1QIf6HH  EU: http://bit.ly/1QAWYMv), dress up your Neps as Underworld Overlords!
Also, customize your PS4 with your favorite goddess through the Megadimension Neptunia VII themes!
Megadimension Neptunia VII March 8th DLC:
Party Character:
- Umio
Coliseum:
- Mouse Kingdom (free)
- Unconfirmed, But In Progress (free)
- True Companions (free)
Costume:
- Swimsuit Pack (Can be purchased
for individual characters/in groups, e.g. CPUs)
- Protruding Spirit
- Fallen Neptune
- Processor Unit "Flower Spirit"
- Trillion: God of Destruction Costume Set
Themes:
- Custom Theme
- Planeptune Theme
- Lastation Theme
- Lowee Theme
- Leanbox Theme
NA: https://store.playstation.com/#!/en-us/games/megadimension-neptunia-vii/cid=UP0031-CUSA03133_00-GAME000000000000%3AADD-ONSEU:https://store.playstation.com/#!/en-gb/games/megadimension-neptunia-vii/cid=EP0031-CUSA03124_00-GAME000000000000%3AADD-ONS
Look for the themes here! https://store.playstation.com/#!/en-us/all-themes/cid=STORE-MSF77008-THEMESALLTHEMES