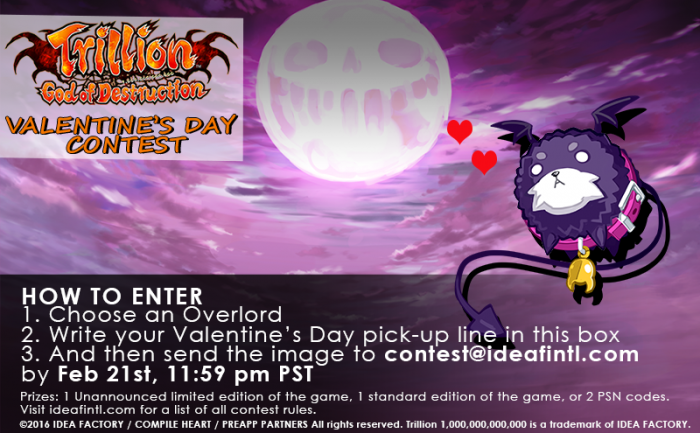 Valentine's Day is right around the corner, and so is Trillion: God of Destruction's release (March 29 NA/April 1 EU)!
A key mechanic of Trillion: God of Destruction's gameplay is strengthening the bond between you and your Overlord. So this Valentine's Day, show some love to your future Overlords!
Tip: Check out the Overlord's character page if you need some inspiration! http://ideafintl.com/trillion/chara/
HOW TO ENTER THE CONTEST
1. Choose an Overlord from the images below
2. Write your Valentine's Day pick-up line in the provided box
3 E-mail [email protected] with a picture or file (max. file size: 3MB) of your entry. Limited to one entry per person. Remember to include your full name, your mailing address, and your phone number! This information will only be used if you win the contest(s), and we will not share your information with any other companies. Submissions without complete information will not be eligible.
Please keep entries PG-13 and appropriate. Inappropriate entries will not be posted or considered.

The subject line for your entry should read: Trillion Valentine's Day
The deadline is Sunday, February 21st, 2016 at 11:59PM PST. By submitting your entries, you are giving express consent for Idea Factory International to share your pictures online.
Winners will be announced later the same week! All entries will be posted on the Idea Factory Facebook page with winners' first names and last initials (if you have a preferred username you would like to use, please indicate so!)
Those who win prizes can expect their items to be shipped out shortly after the release date of Trillion: God of Destruction. Shipping times may vary depending on your location!
There will be 1 Grand Prize winner and 3 runners-up (1 Unannounced LE, 1 Standard edition, or 2 PSN codes)
You must be 13 years of age or older to enter the contest. Entries are accepted from all countries worldwide.
Plagiarism will not be tolerated. Plagiarized entries will be automatically disqualified. Contestants who submit plagiarized entries will also be banned from future IFI contests. This will be strictly enforced.