Last time you heard about the PS4 NEXT Skin coming with the Megadimension Neptunia™ VII Limited Edition…

Now for reveal number two, we'd like to present…the art book, soundtrack, and Limited Edition box sleeve!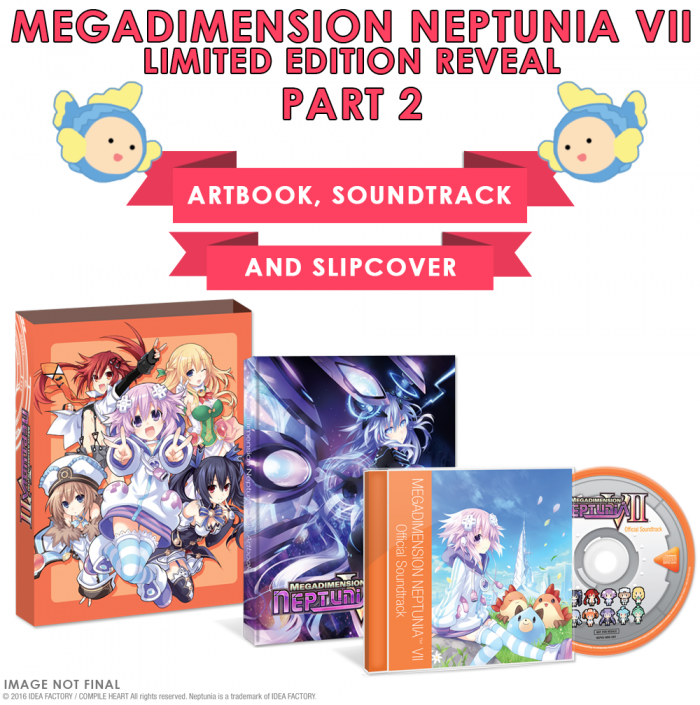 The hardcover Official Art Book is 52 full-color pages of glorious Neppery, including character bios, sketches, and extra artwork!
Now, onto the Official Soundtrack. In addition to in-game music, for the first time ever we've got opening and ending songs! This one's extra special because each of the three dimensions gets its own opening. Wanna sing along but don't know the words? Fret not, it also comes with a lyric booklet with both Japanese and English lyrics!
Wrapping up all this goodness is a bright and shiny slipcover to slip around the Limited Edition box!


So far we've got a PS4 NEXT Skin, a hardcover, 52-page Official Art Book, a Soundtrack loaded with music, and a gorgeous sleeve. A pretty hefty bundle, I'd say.
But wait, there's more! It's something we here in the office have been flipping out over for a while, and we think it'll make quite a splash. So stand by for next week's VIDEO update where we reveal the third and final part of the Megadimension Neptunia VII Limited Edition!