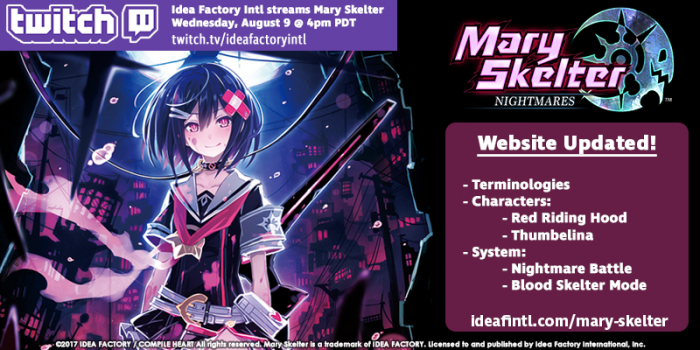 Learn about Mary Skelter's terminologies, the Blood Maidens Red Riding Hood and Thumbelina, and more battle functions in the latest website update!
http://ideafintl.com/mary-skelter/
Don't forget to tune into our Mary Skelter stream on the Iffy-cial Twitch page tomorrow, August 9 at 4pm PDT! http://twitch.tv/ideafactoryintl
Mary Skelter: Nightmares is coming to the PlayStation Vita this September 19 (NA) / 22 (EU)!
Preorder Mary Skelter for the PlayStation Vita here:
Amazon: bit.ly/MarySk
GameStop: bit.ly/MaryGS
Amazon UK: bit.ly/MarySUK